Lakefront at Vineyard City Town Center 1E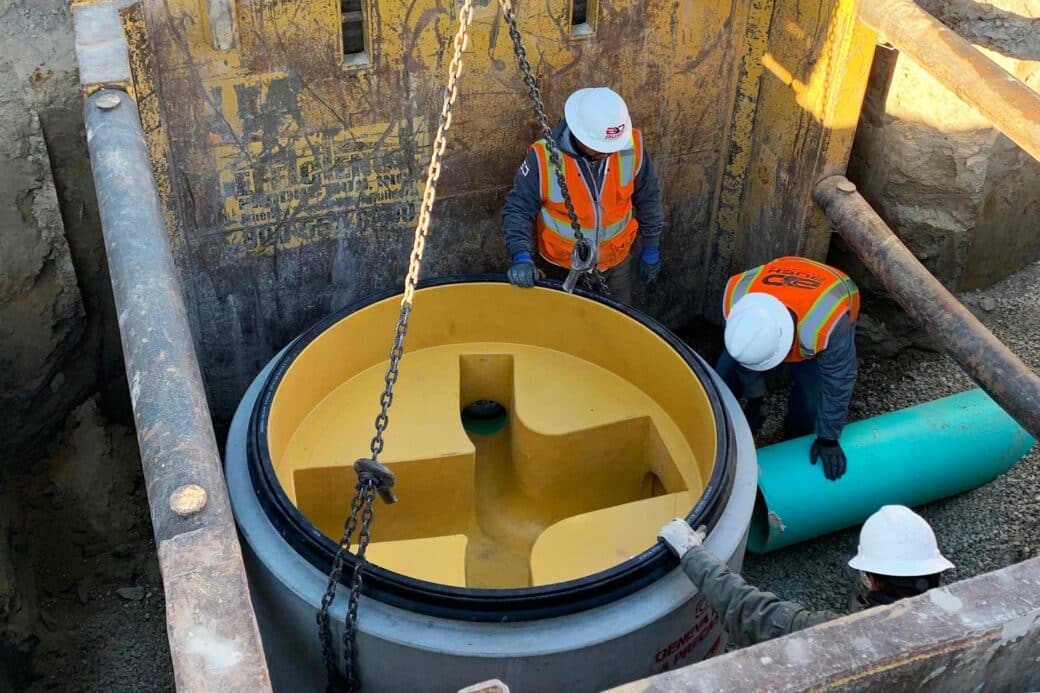 To support the expansion of Vineyard City's sanitary sewer system in its developing Lakefront Town Center area, Geneva Pipe provided a variety of precast concrete structures for both stormwater and sewer applications including one Perfect Lined Manhole—a first for both Vineyard City and Geneva Pipe.
The project involved tying in new construction to an existing line extending from a pump station. The upstream pump station added turbulence and increased the rate at which the previous, unlined manhole decayed due to microbial induced corrosion (MIC), a common condition within aging municipal sewer systems. The Vineyard City engineering team selected this location for the installation of our innovative, corrosive-resistant Perfect Lined Manhole.
Constructed of reinforced precast concrete, the Perfect Lined Manhole System is lined with High-Density Polyethylene (HDPE) and fiber reinforced plastic (FRP) to protect the concrete from corrosion. HDPE and FRP liners have a proven history of success, used widely for many years in sewer applications throughout the world. Geneva Pipe improved upon the use of these trusted lining materials by designing the Perfect Manhole with a weld-free joint. The product design includes a compressed rubber seal mechanically connected to the anchored liner and precast into the concrete, removing the need for field joint welding. Our wet-cast, self-consolidating concrete formula ensures a superior connection between the concrete and the liner compared to dry-cast concrete. The lined manhole we fabricated for Vineyard City includes two 8-inch SDR-35 and 14-inch PVC C900 connections utilizing a high quality cast-in connector and integrated gasket meeting ASTM C923 standards.
To ensure the success of this inaugural installation, our Geneva team provided consistent support through all phases. This included additional drawings, discussions, a plant tour and training with the contractor, and on-site installation oversight by our engineers, project managers, and dedicated field representatives. Regarding the installation process, the contractor noted that install without any field welds was actually easier than installing a traditional unlined manhole. After installation, the structure was vacuum tester per ASTM 1244 to verify that it met the City's standard pressure requirements.
With an advanced design combining the strength of precast concrete and the corrosion resistance of HDPE and FRP, the Perfect Lined Manhole System is an innovative solution for replacing aging infrastructure, constructing new infrastructure, or in the case of Vineyard City, connecting the two in a modernized municipal wastewater system.