Lined Sanitary Sewer Systems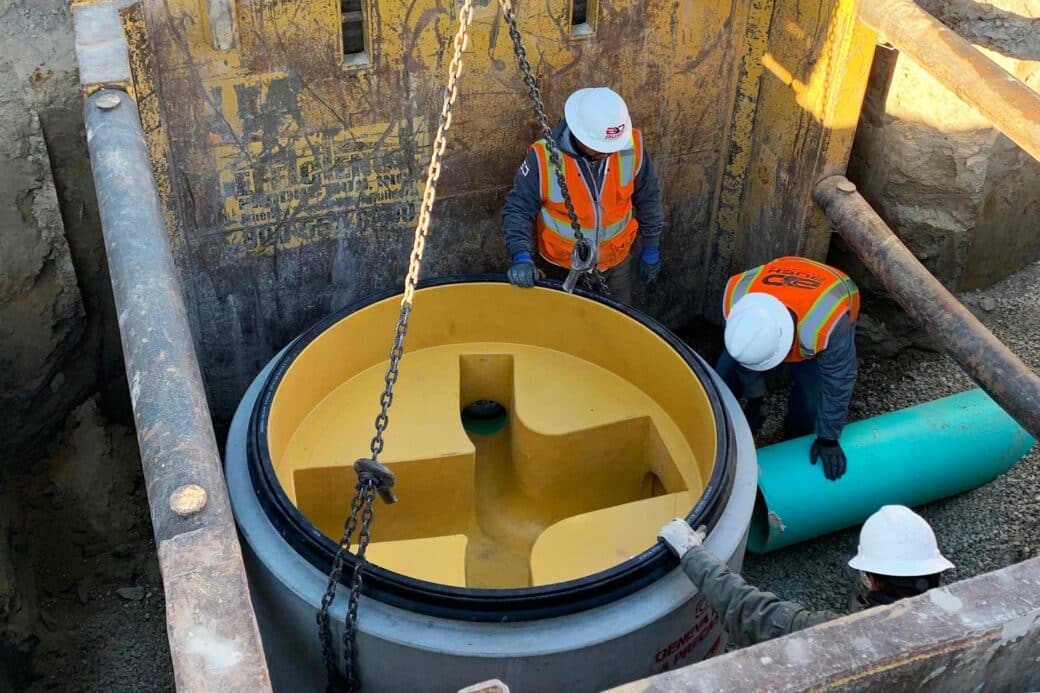 Lined Products Engineered to Protect Against Microbiologically Induced Corrosion (MIC)
Geneva Pipe and Precast's lined sanitary sewer and utilities solutions offer cost-effective and long-lasting corrosion resistance for new and existing concrete wastewater infrastructure in need of rehabilitation. The presence of hydrogen sulfide gases (H2S) in municipal sanitary sewer systems creates a highly corrosive environment that poses a threat to otherwise durable concrete sewer mains, manholes, wet wells, and wastewater structures. When left unchecked, concrete decay caused by MIC can lead to cracks, leaks, and eventually, critical system failure.
Our lined products are specifically engineered to protect concrete from hydrogen sulfide gases and provide 100% water-tight, leak-free coverage for sanitary sewer assets, effectively extending the service life of the system. Quick and easy installation and little to no maintenance result in reduced lifecycle costs.
Corrosion-Free Solutions
Perfect Pipe (HDPE-Lined RCP)
The concrete-HDPE composite lined pipe is designed for a 100+ year design life, requires no maintenance, and provides long-term savings. Installation is quick and pain-free with no field welds in most sizes. In the last 6 years, over 56,000 linear feet (10.6 miles) of Perfect Pipe has been successfully installed across North America.
Perfect Lined Manhole System
Equipped with an integrated liner used in over two million successful installations throughout Europe and over 20,000 in North America, the Perfect Lined Manhole System is now manufactured in the United States. Compatible with any sewer system, the Perfect Lined Manhole System installs quickly with no field welds and provides long-lasting, corrosion-free service in nearly all wastewater environments.
Hybrid PVC Manhole System
Our Hybrid PVC Manhole System combines the corrosion and abrasion resistance benefits of traditional lined manholes with the ease of installation and the widespread availability of industry-standard PVC pipes. The quick and easy installation process can be completed in less than a day, which translates to minimal service disruptions and labor cost savings.
Composite FRP Rehab Panels
Geneva Pipe and Precast's Composite FRP Rehab Panels are easy to install and maintenance-free. Composite FRP Panels are ideal for rehabilitating existing large wastewater structures, as well as for providing a corrosion-resistant lining to new structures, extending the service life by decades.